What are Mink Lashes and what are they made of?
You have probably heard the term "mink eyelashes" before. But what does it really mean? Are they cruelty free?
Mink lashes are made of synthetic material called PTB (polybuthylene terephtalate), which was first invented to use in textiles. Today, it is used for many everyday items because of its excellent features. It is flexible, but holds its shape very well, which makes it perfect for eyelash extensions. High-grade synthetic mink fibers don't cause irritation and are safe to use near eyes. These lashes are the most comfortable type of lash fibers, since they are extremely flexible, lightweight and soft.
PTB as a material, is perfect for eyelashes also because of its durability. Mink lashes made by a professional lash artist can stay fabulous even as long as for 6 weeks! And when you go and get a refill, the lashes that were applied last time have maintained their perfect curl and deep black color.
Mink lashes made of PTB are beautifully tapered, to make them look as natural and smooth as possible. The heat resistance of the PTB is approximately 121 Celsius, which means that you are definitely allowed to go to sauna or hot yoga with your lashes on. PBT is also highly resistant for chemicals, I.e. solvents.
These lashes are usually compared to other common type of eyelashes, which are silk lashes. Mink lashes are 30% lighter than silk lashes. Mink lashes offer slightly more glossy finish and deeper colour, and are therefore the most common type of lashes used by thousands of professional lash artists around the world.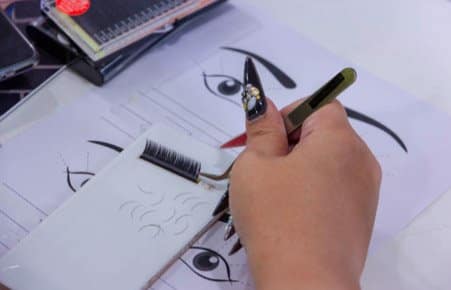 What are 3D mink lashes and why to choose them?
How about the 3D mink eyelash extensions, how do they differ from the regular mink lashes?
3D mink lash extensions are made of 3D volume fans. One 3D volume fan consists of 3 lightweight fibers. We sell high-quality pre-made fans made of 100% synthetic material. Using the term "regular" mink lashes, we mean the traditional classic eyelash extensions, which are made by attaching only one lash fiber to one natural lash. Using 3D fans, you can create a lot more dramatic and thicker look for your customers.
3D mink lashes provide a lot more consistent and softer look than regular classic lashes. By using our 3D mink lashes, it will be easy and quick to achieve that fabulous and soft look for your clients. Using 3D mink lashes is easy and doesn't require special training, you only need basic level training to classic eyelash extensions. But these products are made also for the experienced lash stylists, because they make a huge difference for how long it takes to give that full and feathery look for your clients.
For the experienced lash artists, the difference is remarkable. You can give your clients the full 3D look in half of the time using our premade 3D lashes, which means you can double the amount of customers in a day. This of course means that you will also double your paycheck. Sounds good, right?
I'm sure that you are also interested in the costs of using premade lashes. You might be thinking that this must be more expensive than using regular mink lashes. Our 3D premade fan trays have 320 fans, which means only 0.06€ per fan!
And before anything, you also need to consider your health. Most of the lash artists suffer from headaches caused by eyelash glue fumes and back pains because of the long and stressful lashing sessions. Making perfect fans by yourself again and again is a huge stress factor for a lot of the lash techs. You can eliminate these harmful elements of this profession by giving a try for the premade fans.
Are mink lashes cruelty-free?
We are definitely against any kind of animal cruelty, and will never use real mink fur in our products. All our products are made of safe, high-quality synthetic materials. Mink eyelash extensions are made to look and feel as soft as real mink fur, but still made of safe and cruelty-free synthetic material. We call these fabulously soft lashes mink lashes only because the shape and texture are similar to real mink lashes. This term is also widely used in the eyelash extensions field.
Real mink fur lashes were extensively used back in 2000's when the eyelash extensions were still taking their baby steps, but are nowadays quite hard to find. This is because of their high price and unethical manufacturing process. Real mink also does not maintain its curl well and often needs to be curled again after washing the lashes. At our point of view, we see that there are millions of reasons why PBT is better than real fur, and no reasons at all to use real mink fur in eyelash extensions. We are glad to say that we have never used real mink in our products and will always use 100% ethical and synthetic materials.
This means that our mink lashes are always 100% cruelty-free!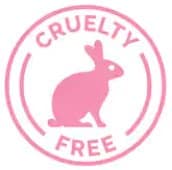 Are you looking for a wholesale mink lash vendor?
We at Fluffy Lashes are proud to say that we are the best choice. We have been in the mink lashes wholesale business for more than 10 years. We have already more than 1000 clients that have started their own mink lashes businesses around the world with our help. If you wish to start a successful business, at first, you need high-quality products. We are here to offer you the best knowledge and products that are available in the industry. We have trained a big bunch of professionals and helped them out on their way to the stars.
Our handmade 3D lashes are guaranteed to be the best quality. We want to give you an opportunity to test our products before placing a bigger order, so we don't have a minimum order requirement. You can order just one tray for testing, and we are quite sure that you will fall in love with our products! If you are interested in the wholesale prices and discounts, send us an e-mail and we will get back to you as soon as possible. Buy Mink Lashes!