Fluffy Lashes Lash Extension Supplies
Are you ready to experience the most innovative Lash Extensions Supplies on the market?
Fluffy Lashes was one of the very first providers of volume lashes in the eyelash extension industry! Our premade lashes enable technicians to become more efficient through faster, hassle-free extension applications leading to an increase in customers. We are committed to each of our customers by providing quality lashes and top-notch customer service.
Over a decade into this journey and we have grown into one of the largest and most prominent lash extension suppliers in the world. We're passionate about volume lashes and providing you with lash supplies you can trust. Our extensive background in the industry guarantees comprehensive knowledge and user-centered products. As a quality lash supplier, we understand and appreciate lash technician's needs, and deliver supreme products. 
Fluffy Lashes was founded in one of northern Europe's most innovative countries, Estonia. Through product expansion, extensive industry knowledge, high product quality and exceptional customer service, we have organically built our clientele globally. We proudly serve happy clients throughout Europe, Asia, Africa, and the Americas.
The way we see it, our job is also to make you even more successful at your job!
Our Story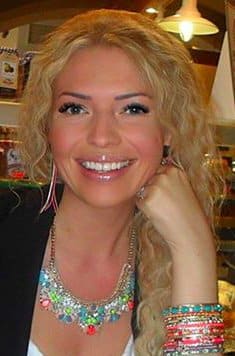 Hi! My name is Liana and I founded Fluffy Lashes after a major "ah hah!" moment in my life. I was working an unfulfilling customer support job when I decided I needed a change. Following my passion and trusting my instincts showed me the truly rewarding industry I now get to call my career.
When I started lashing over a decade ago, the lash industry had yet to experience the rise of volume lashes. My number one goal as a lash artist was to give my clients the best eyelash extension supplies. This meant seeking out quality products and brands that stood for something more than just increasing their bottom line. I wanted to support brands that understood the type of products that technicians needed and clients wanted.
Through Fluffy Lashes I created a brand that represented all of the things I felt were missing in the industry. I personally developed our renowned pre-made fans after experiencing the strain of building volume fans by hand. We're now proud to be a growing brand working with salons all over the world to provide the best lash extension supplies to technicians.
How it all started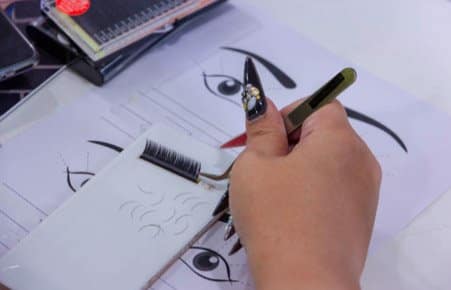 After leaving customer support in the rearview, I became an eyelash technician and quickly rose to success. Soon I owned my own salon and was training others to do what I loved.
I took my first volume lash class when volume lashes first came to the market. It was harrowing to learn such a complex new technique. I felt like I was going to have to start over from ground zero. After being in business for 10 years and becoming one of the best technicians in Estonia, this was crazy.
Other very experienced technicians who took the class with me were feeling the same. It was going to be a long road ahead to learn this technique and feel comfortable enough in our skills to offer it at our salons. I couldn't even imagine the frustration of beginner technicians.
The extensions used to build Russian volume fans are very thin and require a lot of concentration. The process is harsh for a technician's eyes, neck, and body. It took our class nine hours to complete one set of Russian volume lashes. Such a long procedure can also be uncomfortable for clients. Classic eyelash extensions were already challenging enough, so thinking about undertaking this new technique was overwhelming.
It can take MONTHS to master the volume eyelash technique because it is a very delicate and intricate procedure in comparison to classic extensions.
Mastering the volume technique is time-consuming, difficult, and can be very frustrating. The procedure has stumped even the most talented and experienced lash artists because it requires absolute precision. For many lash experts, this feels like going through a beginner's eyelash training course all over again. It can take MONTHS to master the volume eyelash technique because it is a very delicate and intricate procedure in comparison to classic extensions.
The technicians were discussing the volume training after class. "Why do we have to go through all this pain just to complicate things," we wondered. "Why aren't there any ready-made fans? Why do we have to create the product during the application procedure while we have a customer?"
I realized the whole industry was actually missing a huge part – pre-made fans.
We, of course, could 'pre-make' the fans at home the day prior to the service, but that would decrease our hourly rate and limit our free time. A technician's job should be to properly attach lashes to a client's eyes not to also create the tools simultaneously. What a ridiculous predicament.
That's when I had my 'light-bulb moment'!
Looking online didn't unearth any pre-made fans. Volume lashes had only just entered the market and I realized the whole industry was actually missing a huge part – pre-made fans. That's when I had my 'light-bulb moment'! At that moment I decided I have to bring pre-made fans to the market.
I cooperated with various eyelash factories and participated closely in product development to create the perfect pre-made fans. After a long testing period, I was finally ready to bring the first perfect pre-made fans to the market.
The initial products were sold out within a couple of days. The market had clearly been craving this resource-saving product. My fellow eyelash sisters were so relieved that they could now keep up with the trend easily!
Everyone deserves the opportunity to work smarter, not harder
Pre-made fans enabled technicians to start offering next-day volume lashes to customers. Say goodbye to special volume eyelash training and sacrificing free time to make fans at home. Lash technicians no longer had to compromise their health and clients were able to achieve voluminous lashes without excruciatingly long application times.
Everyone deserves the opportunity to work smarter, not harder. Fluffy Lashes Lash Extensions Supplies products that enable technicians to increase productivity while still providing flawless volume lash results. I value each of our customers and prioritize customer satisfaction and support. I look forward to building a relationship with you and providing the tools your need for maximum success.
XOXO, Liana
Top-notch Eyelash Extensions Supplies for professional technicians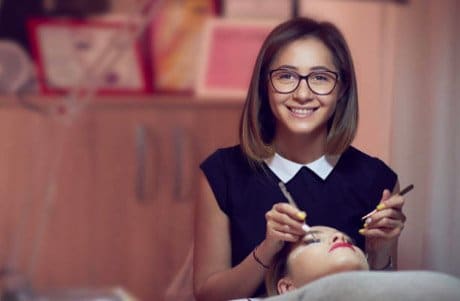 Fluffy Lashes are for eyelash technicians whose clients seek volume eyelash extensions. We have uniquely developed glue-free pre-made fans to maximize every minute you spend lashing. Our lashes come in different forms. Some are easier to use for new technicians, while others are ideal for experienced technicians.
Our products vary based on whether they are bonded at the base. Some of our lashes come in forms that are pre-attached at the bottom. This enables new technicians to easily transfer the extension onto the natural lash in a flawless fan.
We have uniquely developed glue-free pre-made fans to maximize every minute you spend lashing
More experienced lash stylists can use our non-bonded volume lash extensions. These are not connected at the bottom and come only adhered to a sticker strip. These technicians are very advanced and are able to easily maintain the fanned shape of extensions while transferring them to clients' natural lashes.
Our selection of lashes includes both pre-made fans as well as self-fanning lashes. Both are a variety of Russian volume lashes that are meant to ease the burdens of lash application for technicians.
Our Commitment
Eyelash technicians are always top-of-mind when creating new lash concepts
We understand the ongoing needs of lash artists because of our ongoing relationships within the industry. Liana's own lashing experience, our sustained connections with top eyelash artists, and our continued research ensure we understand the newest industry technology.
We pride ourselves on exceptional, knowledgeable, and responsive customer service. Hearing from customers is the best part of our day! With over a decade in the eyelash industry, we understand the intricacies that come with extension application. We're always happy to answer any questions regarding our lash extension supplies.
Customer satisfaction remains a top priority for Fluffy Lashes. We love what we do and we know you love what you do. Our goal is to always make your job as easy and efficient as possible by providing the latest advancements on the market.
We are always more than happy to provide additional information about our products, production methods, or application processes. We want YOU to be successful!
EXCELLENCE
Committed to providing non-toxic, ethical, premium quality, customized lash extension supplies.
All of our lashes are produced using fine, non-toxic materials and techniques. We ensure that each set of volume lashes is a quality product that will accentuate clients' lash lines and last up to four weeks. Our Russian volume lash extensions are guaranteed to give your clients luxurious, full, feathery soft and voluminous lashes.
Fluffy Lashes solely provides Russian volume eyelash extensions. We focus on this niche area of extensions and ensure high quality and constant evolution. Our mentality has always been quality over quantity. One of our top priorities is innovating volume lashes and continuing to source their quality production and distribution.
Each high-grade synthetic mink fiber extension is designed for easy pick-up and quick application. We want YOU to be successful and provide products that make you more proficient!  
EXPERIENCE
Over a decade in the eyelash extension industry
Throughout our tenure, we continue to learn an exponential amount about volume eyelash extensions. The application methods and products available to volume lash technicians continue to evolve. We identify the strengths and weaknesses of the industry and produce a product that meets the needs of technicians and their clients, without breaking the bank.
We continue to attend conferences and network with other industry professionals. This allows us to understand the latest in eyelash technologies and what products are lacking still for technicians. Fluffy Lashes is always evolving within with the eyelash industry so that your salon is guaranteed to offer the newest products.
INNOVATION
Constantly following the latest trends and developments of lash extension supplies.
Fluffy Lashes always provides you with the latest quality products and knowledge available in the industry. In addition to research and development, we attend conferences and competitions throughout the field.
We use Fluffy Lashes products every day in our beauty salons and regularly get feedback from technicians. In addition to R&D, hearing from customers enables us to improve products and provide exactly what technicians need. We fit the needs of our evolving market through constant product expansion. We have answers to all of your questions!
We want you to be successful!
Technician health and efficiency was a major cornerstone when developing Fluffy Lashes. Between long hours and rigorous techniques, lash artists merit products that ensure max efficiency and perfect results. Fluffy Lashes values your trade and provides products to propel your success.
Fluffy Lashes provides products that don't limit technicians. Our products include options for new technicians who would like to become experts in volume lash application. Our pre-made fans also encourage efficiency for experienced technicians. They make it easier to lash the maximum amount of clients while still providing excellent results.
Buying Fluffy Lashes eyelash supplies is more than a transaction – it's a connection to the forefront of eyelash technology. We aim to take the lead in new innovations in the eyelash business. We put our heart and soul into brining the best products to you.
We offer exceptional customer service with quick replies and technical product knowledge straight from the source (our founder, Liana!) Because we have been in the eyelash extension industry for over a decade, we have seen products evolve and trends takeover. We know what works best for Russian volume lashes and technicians and provide some of the best products in the industry.
Are your customers ready for amazing lashes?