What are Russian volume lash extensions?
Russian volume lashes have been the big thing in the eyelash industry for multiple years now. Many have heard the talk, but have you been wondering what they really mean? This post explains the most common questions asked about Russian volume technique, and its benefits.
Russian volume technique means that multiple ultra-lightweight and fine lash extensions are applied to one natural lash in a shape of a fan. The base of the fan is very thin, and the amount of glue used is minimal.
Russian volume lashes are suitable for all types of natural lashes. The clients with very thin and sparse lashes get the most benefit from Russian volume technique, since a very lush and full look can be created the with the Russian volume fans. If your client has gaps in the natural lashes, these can also be hidden with Russian volume technique, by using wider fans for the lashes next to the gap. Russian volume lashes are also perfect for those desiring the most dramatic, dark, and full lash-line. By using bigger fans (meaning more single extensions in one fan), you can achieve the darkest and most dramatic result.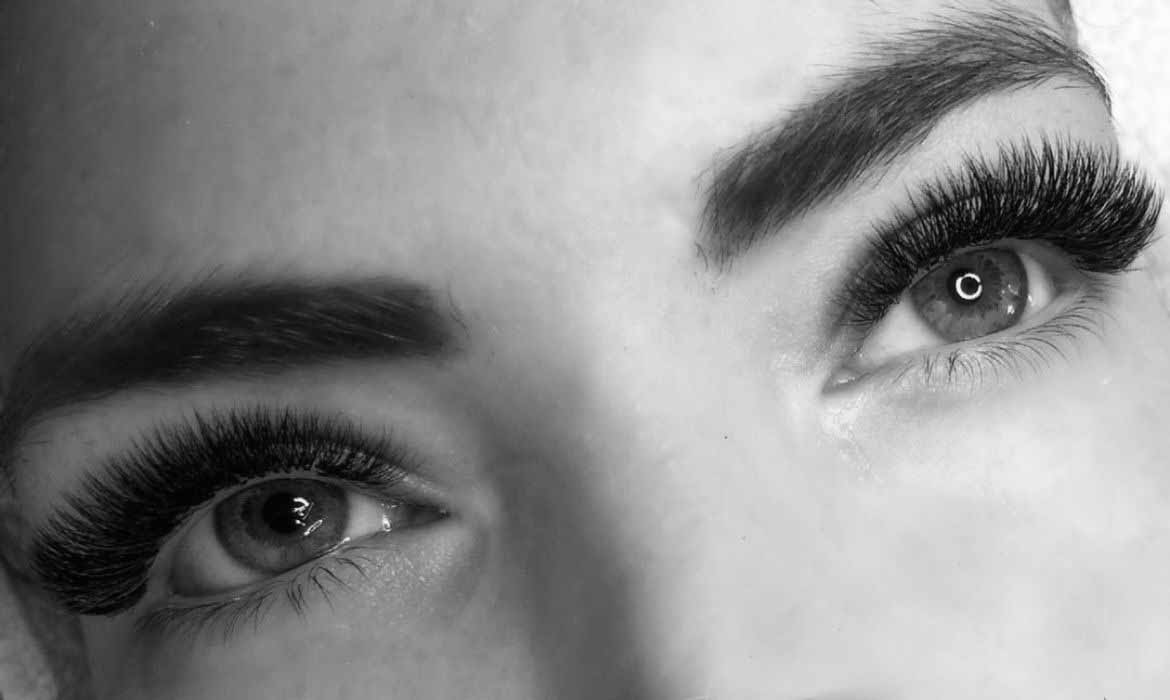 How does it take to create a full Russian volume lash set?
Russian volume lashes take usually around 2.5 hours to apply. The process can be made faster by using good products, that are designed for achieving wanted result in half of the time!
We are eyelash professionals as well, and we know the frustration of making Russian volume fans by hand. Therefore, we have created products that can help all eyelash technicians in the world to achieve best results in almost half of the time! To speed up your lash-game, we highly recommend trying our premade fans and easy fan-lashes, which we will tell you more later in this post!
Are Russian volume lashes bad for you?
Any type of eyelash extensions does not damage your natural lashes, if applied correctly. Choosing a professional eyelash technician guarantees a beautiful and safely made result. A professional technician has a good knowledge about different thicknesses and lengths, to ensure a safe result for your lashes.
For eyelash technicians, it is important to observe the strength of clients' natural lashes. If you notice snapped or bent lashes in refills, the lashes have been most likely too heavy for the natural lashes. If your client wants a lot of volume but has thin natural lashes, you'll achieve the wanted result safely by using thinner lash extensions and wider fans.
Russian volume lashes vs classic lashes?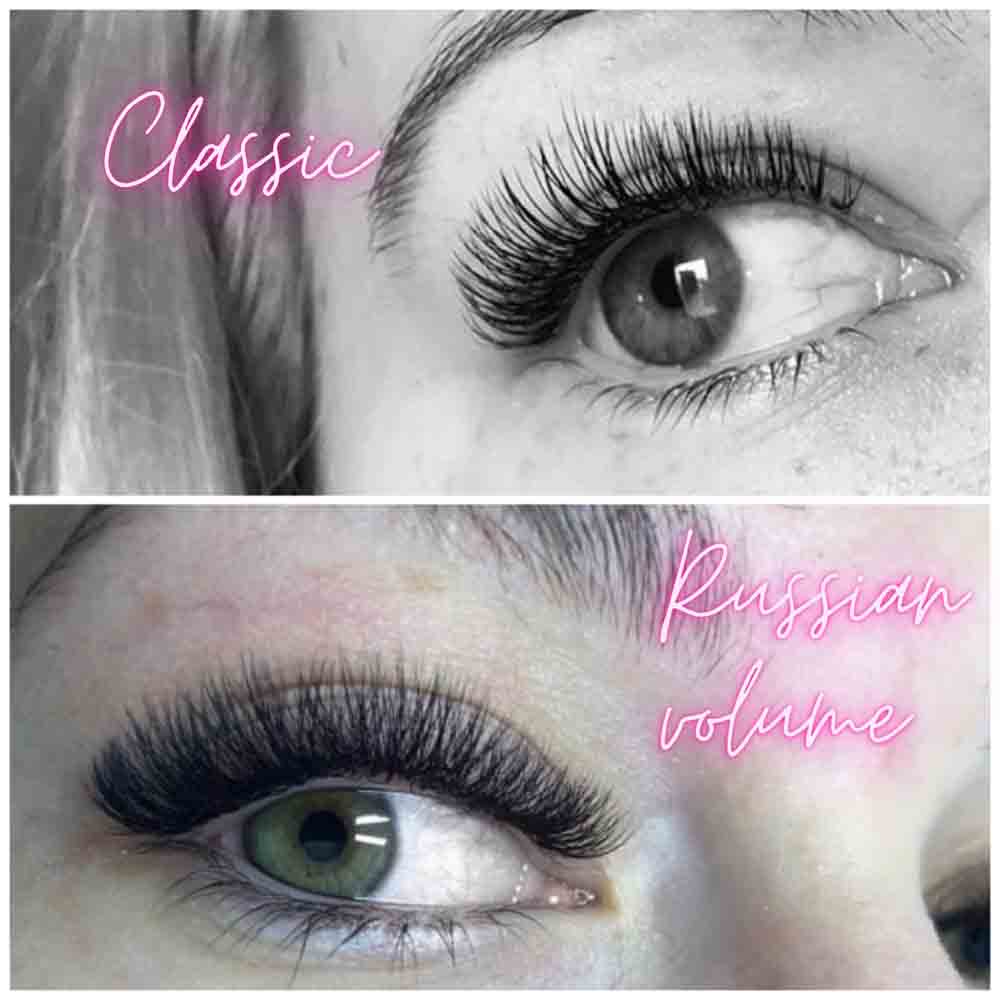 Classic lashes are made with the so-called 1:1 technique. This means that one thicker eyelash extension is added to one natural lash. The result is more natural and might remind you of mascara.
In Russian volume technique, multiple extra-fine lash fibers are collected in a shape of fan and applied to one natural lash. There can be up to 10 extensions applied to one single lash at a time. The result is thicker, fluffier, and more even look compared to the classic lashes. This technique requires a special training and a lot of practice to master. It can take months to master the volume eyelash technique because it is a very delicate and intricate procedure in comparison to classic extensions.
The biggest difference between the two techniques is the amount of lash extensions applied to the lashes. For Russian volume lashes, there can be up to 10 single lashes in one fan, which is applied to the natural lash.
The second biggest difference is the need of practice to master the Russian volume technique completely. We have solved this problem for you, by creating amazing products to help you in your journey to the stars! With our pre-made fans and easy-fan lashes, you'll be able to achieve a professional-looking and beautiful result in half of the time! The results are excellent, but you don't have to give up on the quality of the service, since the eyelash extensions are made of the best materials in the market. You can use pre-made lash fans if you have completed a regular lash extension training.
How to make Russian volume lashes (step by step guide & video)
There are two options, using the pre-made fans and making the fans by hand. Here is a step-by-step guide for both techniques.
With pre-made fans, it is super-easy to make Russian volume lashes! You'll just have to pick up the fans from the strip, without hassle. With our easy fan-lashes, it is also very simple to create fans.
Cleanse the lashes thoroughly. This is a very important step, since clean lashes offer a good base for eyelash extension applying and gives the lashes better retention!
Use a primer. Primer after cleansing dries and disinfects the surface of the lash.
Apply gel pads or tape to protect lower lashes. You can also use both, to ensure those baby lashes stay nicely under the pads! You can also use a small piece of tape to lift the lid, which makes the application process easier. Make sure the client's eye is still shut, so the glue won't irritate eye.
Brush the clients lashes with a lash wand.
Add a small droplet of glue on top of a piece of tape. Remember to change the glue in every 10 minutes. This way the glue doesn't dry too much, and you'll achieve the best possible retention!
Start by isolating one natural lash.
This step depends on if you use pre-made or separate volume lashes. If you are using pre-made fans, just pick a fan from the strip, dip it into the glue and apply to one single natural lash – easy as that!
If you are using separate volume lashes, there are multiple techniques to use to create a fan. The most important thing is to make the fans symmetrical and the base of the fan needs to be thin and attached. Some people like to pick a bunch of lashes, and then reapply it to the strip and wiggle a bit with tweezers to create a fan. Pinching technique means that you pick up the wanted amount of lashes and create the can by pinching the base together with your fingers. With our easy fan lashes, the special lash strip prevents the lashes from splitting at the base, which leads to the lashes fanning almost by themselves.
Repeat step 7 until wanted result or the natural lashes are filled completely
When you have filled the lashes, give a few minutes for the glue to settle completely. We recommend using a nano-mister or a settling solution to prevent irritation and dry the glue completely.
Brush the lashes and remove gel pads and tapes.
Voi-la! Your client has received a beautiful new set of lashes! Remember to give your client home care instructions, and give advice on cleansing the lashes to prevent infections and bad retention.
Benefits of Russian volume lashes
Russian volume lashes are the most lightweight but can give you a very dramatic and dark result if wanted. Since the lashes are very thin, they'll weigh less and be more comfortable and safer for your client. In addition to the light weight, the lash fans "wrap" around the natural lash, which gives the Russian volume lashes better retention compared to classic lashes.
With Russian volume technique, you can adjust the wanted result more than with the regular 1:1 technique. You have the freedom to choose between 2D and up to 10D, to create a natural or more dramatic result!
Best thickness and length for Russian volume lashes?
For this question, there is no direct and simple answer. The best thickness and length depend on multiple different factors, which are for example:
Wanted result; soft, dramatic, fluffy, natural…
Strength of clients' natural lashes
Used effect (cat-eye, Kardashian, doll-eye… etc)
As an eyelash technician, probably the most important thing to consider while doing the lashes is the suitability for clients' natural lashes and eyes. For regular Russian volume lashes, we recommend using lashes, that are 0.03-0.085mm thick. For 2D and 3D lashes, it is possible to use 0.10mm, depending on the strength of clients' natural lashes. For a very soft-looking and -feeling result, the 0.05mm lashes are perfect. For a little bit more dramatic but still soft result, we recommend using the 0.07mm lashes. Compared to our natural lashes or classic eyelash extensions, the Russian volume lash extensions are several times lighter, which means you can safely use multiple lashes for one single natural lash.
The lengths of lashes vary usually around as short as 5mm to 14-15mm. 15mm lashes are very long, and only recommended if your client has extremely long natural lashes. The most usual lengths used are 7-12mm.
FAQ
Why choose Russian volume over classic lashes?
Russian volume lashes usually last longer due to their light weight. You'll need less refills, since the lashes look beautiful longer, and the spaces between lashes are less visible.
Why choose pre-made fans over regular volume lashes?
We promise it is way more convenient for you! The process of making volume lashes is quicker, which means more money for your business! You can find all our lash extension supplies from here.
How often do you need a refill for Russian volume lashes?
The usual recommended time between refills is 3-4 weeks. This depends on the strength of natural lashes and how you take care of your lashes.
What does the "easy fan lashes" mean, and how are they compared to regular volume lashes?
Easy fan lashes are a product that will change the way of your lash-game forever! These lashes literally fan themselves with almost no effort at all!
How are the Russian volume lashes removed or can you remove them at home?
Like all types of eyelash extensions, you should always go see a professional for the removal. Otherwise, you might damage your natural lashes.
I have very thin and sparse natural lashes, can I get Russian volume lash set?
Absolutely! Russian volume lashes can be applied to any kind of lashes.
Russian Volume Lashes Wholesale?
You can find our wholesale prices from here.