Fluffy Lashes Volume Eyelash Extensions
We are proud to introduce a brand new style of eyelash extensions that just entered the market – Fluffy Lashes Pre-Fanned Volume Eyelash Extensions! High-grade Fluffy Lashes 2D (Y Lash), 3D Lashes (W Lash), 4D and 5D Lashes are the latest advanced development in eyelash technology, also called Russian Volume Lashes and Hollywood Lashes.
Now you can add even more volume, drama, fluffiness and shape than ever before with the use of our 10D Mega Volume Lashes that are made of the thinnest (0.03 mm) volume extension available to create stunning sets that turn heads.
Our premade fans will give your clients luxuriously full, feathery-soft, fluffy, and glamorous, but natural looking voluminous sets of eyelashes! For more information, please visit our product section.
We guarantee that you and your clients will fall in love instantly with our ultra-thin and extremely lightweight lash extensions!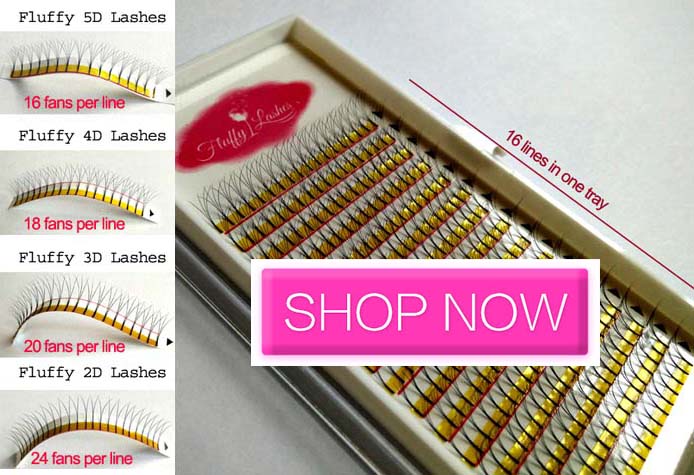 Length: 8 mm – 16 mm
Curl type: C, D, J
Thickness: 0.03mm, 0.05 mm, 0.06 mm, 0.07 mm, 0.085 mm and 0.10 mm
Glue YES/NO: GLUE-FREE (no glue will be added to the bottom of the fan roots) or GLUED (fans glued together at the base in 1 piece) option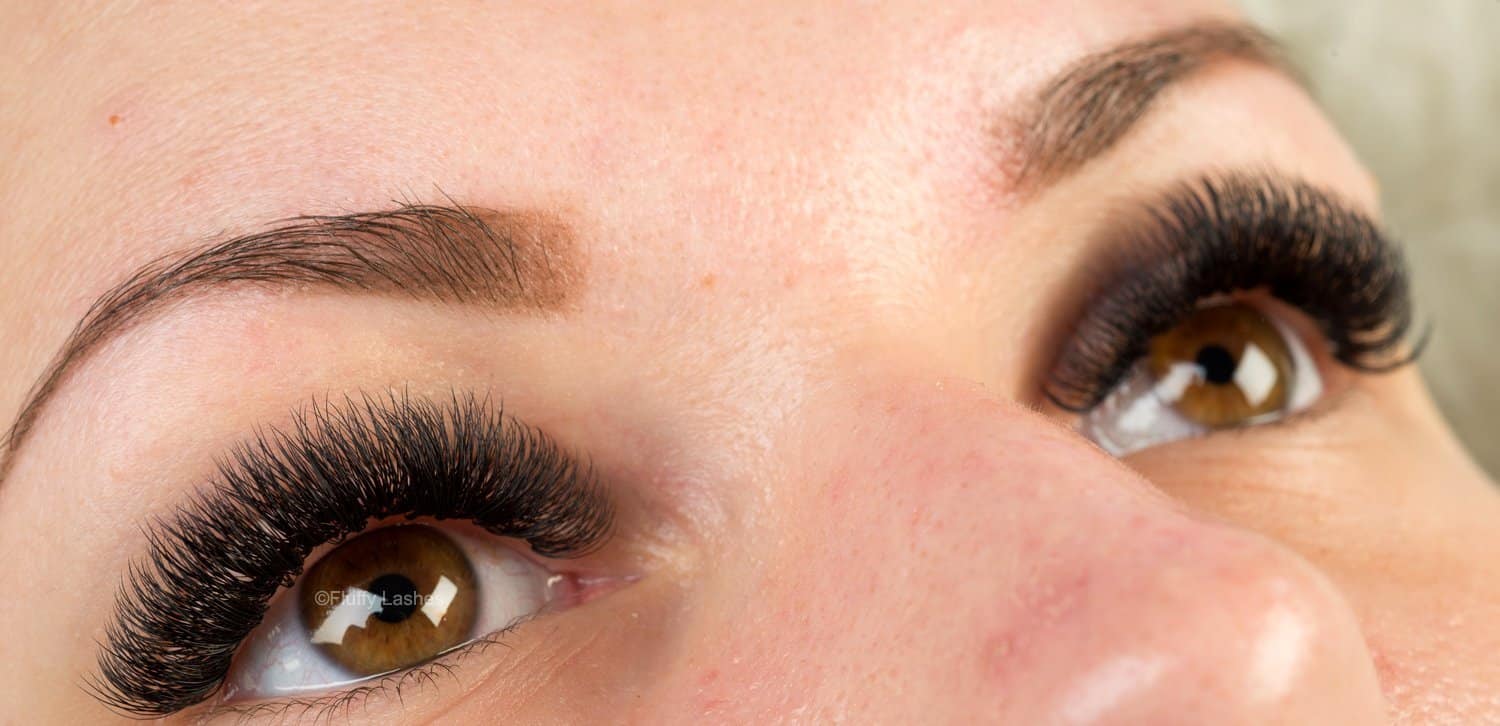 Best Eyelash Extensions Supplies
We sell only the best quality eyelash extensions supplies and our main focus is constant product development. We are using our products in everyday work at our beauty salons. We get constant feedback from our eyelash technicians in order to improve and develop the perfect eyelash extension supplies. Therefore we know what we are selling and have answers to all your questions.
If you want to buy the best quality premade fans and supplies look no more! We have over 10 year experience in eyelash extensions field and thousands of happy customers all over the world.
For more information, please visit about us section.
Fluffy Lashes Reviews
Review by Beautician & Youtuber Galaxy Dreaming. You can find more reviews here.
Fluffy Eyelash Extensions – Free Shipping!
Order 10 trays or more and FedEx International shipping will be free! Estimated delivery time 1-4 days worldwide. Shop Now!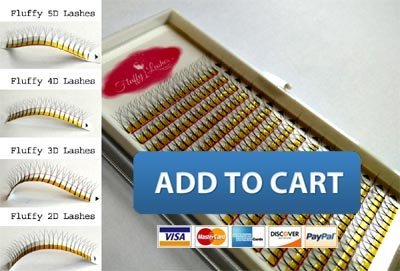 What are Synthetic Mink Eyelashes?
Fluffy Lashes are made of premium high-grade synthetic mink fibers, made from Polybutylene Terephthalate (PBT). Synthetic lashes are the most common type of false eyelashes, they are very light weight, soft, flexible and comfortable on eyes.
Fluffy Lashes are against animal cruelty and we will never use real mink fur in our lash extensions. We call them "Synthetic Mink" just because the shape of the lashes is similar to real mink fur and "Synthetic Mink Eyelashes" is a known term in the lash extensions field. Our volume extensions are the best quality of synthetic mink eyelashes available and they will give your clients luxuriously full, feathery-soft, fluffy, and glamorous, but natural looking voluminous sets of eyelashes. Read more about mink lashes.
Classic Eyelash Extensions VS Volume Eyelash Extensions
What is the difference between Classic and Volume? Classic eyelash extensions simply means where one lash extension is glued to one natural eyelash, this method is called 1:1 or one-to-one technique. Volume eyelash extensions are applied the same way, the difference is that one volume lash fan has multiple hair in it. Example if two lash extensions are applied to one natural lash then it is called 2D lashes, three lashes in one natural lash would be called 3D lashes, four lashes would be 4D lashes and five lashes would be 5D lashes.
Thickness of volume lashes (0.05 mm, 0.06mm, 0.07mm, 0.085mm, 0.10mm) are more thin versus classic lashes (0.20mm, 0.23mm, 0.25mm, 0.30mm). This means volume lashes are actually lighter than classic lashes and they last longer than classic lashes. Our pre-made volume lashes might even look prettier than handmade, on-the-spot volume lash extensions because our lash fans are symmetrical and evenly spaced. Even the best-trained volume lash technician cannot compete with our perfectly spaced lash fans.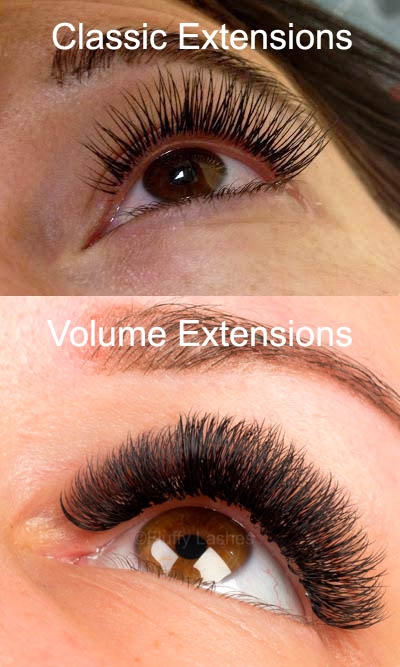 Have you been working with classic eyelash extensions and thought to offer Volume Lashes to your customers but you are not sure how to? Our pre made fans are applied same way as 1:1 regular classic eyelash extensions so it is suitable for any lash technician! We guarantee that you and your clients will fall in love instantly with our Fluffy Lashes! Shop now at https://fluffylashes.com/shop/