Fluffy Lashes premade fans
What are premade fans?

Volume lash extensions are made by attaching one lash fan to one natural lash. The fan is made from two to even ten very thin lash fibers that are attached to each other from their roots in a fan shape. For example, 3D fan includes three thin lash fibers that are attached in a shape reminding the letter W.
You can make volume lash fans by yourself of separate lash fibers beforehand or while attaching them to your client. However, with premade fans, the lash fibers are already attached as a beautiful fan and placed in a box ready for use.
What are the benefits of premade fans?
Without a doubt, the biggest benefit is the time saved. When you don't have to make the fans yourself, you save a significant amount of time: all you need to do is open the box and pick up a perfect fan that's ready to use. The time saved in making the fans yourself means that you can fit more clients to one day – or even work shorter days if you wish! Therefore due to premade fans you can significantly grow the profit on lash extensions.
One benefit is also that they are very easy to attach. Volume lash extensions constantly grow their popularity but they are more challenging to make than classic lash extensions. In addition to learn the classic lash extension technique you also have to learn how to make perfect volume lash fans and their more demanding attachment technique. Due to premade fans you'll only have to learn the basic lash extension technique: you no longer need to learn making fans yourself and premade fans also keep their shape well and therefore are easier to attach.
Every lash technician has their own, unique style making volume lash fans which means that the quality of the lash fans might vary. Pre-made fans are always even: this way your clients will always get perfect lashes from your salon regardless of the technician or the day.
How do you use premade fans?
Premade fans are used just like the regular, single lash fibers: one premade fan is attached to one client's own natural lash.
This is how you attach them:
Open the tray of premade fans and pick up one fan with your tweezers.
Dip the narrow end of the fan gently into lash glue.
Attach the fan on one natural lash of the client.
How do pre-made fans feel in the customer's eyes?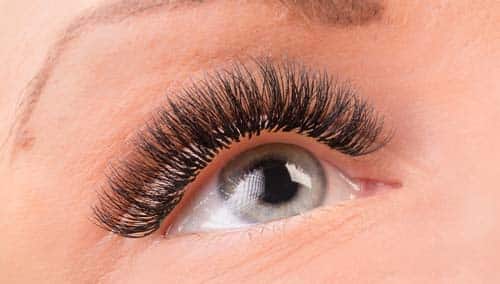 Fluffy Lashes premade fans are made of high-quality, synthetic lash fibers. They are light as a feather, flexible and soft – and feel just like real mink fur. Our clients have praised that our premade fans are so light and soft that you can't even feel them on your eyes!
With Fluffy Lashes fans you'll create a beautiful and dense, but at the same time natural look. We offer premade fans in various curl types and thicknesses so you can create perfect lashes for all of your clients.
How do I choose the right product?
Like always when creating lash extensions, the suitable lash fibers are always chosen according to the client's wishes, eye model and natural lashes. The more delicate the client's natural lashes are the more light lash fibers you should use. If the client has gaps in their own lashes, the gaps can be filled with fans including more fibers. For a client wishing for a more natural look, 2D Volume Lashes and 3D Volume Lashes will give the desired outcome.
From our wide range, you'll find premade fans for every style and desire! The curl type can be chosen between a very curly D curl and a more natural J/C curl. The available thicknesses are 0.03, 0.05, 0.06, 0.085, 0.07 and 0.10 mm. The fiber lengths go all the way from 8 mm to even 16 mm.
Among different curl types, thicknesses, and fiber lengths there are also variations in the tip length and fan attachment type. We also offer hybrid fans combining classic and volume lash fibers and fans mixing different fiber lengths.
Explore the world of our fans and get ready to fall for them!